A Tribute To
Trooper Mark Matthews
August 1894 - September 2005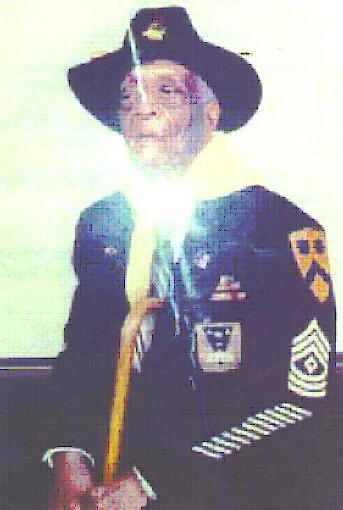 Born in 1894 in Alabama, Matthews rode horses from early childhood, delivering the local newspaper on his pony. "I was 16 when I joined the Army to be a soldier," he recalled. "I had to wait awhile before I could get on duty. But then they shipped me to the West."
He was stationed at Fort Huachuca, Ariz., which still was using local Indians as guides. "Ilike the Army," Matthews said. "I learned all the different rules, how to ride the different horses, how to jump and how to shoot. There couldn't hardly anybody beat me shooting. Every time I got in a contest where I shot at a target or something, I usually won."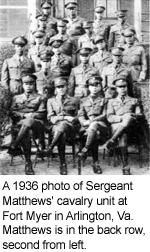 Matthews served on the border patrol during the years the cavalry was on the trail of the notorious bandit Pancho Villa. "I never met him," Matthews said, "but I knew where he was at. I was on the border patrol for a good little while."
In the '20s, he helped to train younger cavalry members. "I had a whole troop of my own," he said. "I trained them how to ride the horses, what to do and what not to do." And during World War II, when he was already in his late 40s, Matthews saw action on Saipan in the South Pacific. He remembers Tokyo Rose, the radio voice of the anti-American Japanese propaganda, and the snipers who ringed the island. "A soldier I knew -- a lieutenant who had been in the Army six years, fighting in Europe -- got sho that first doggone day."
Matthews has passed on his stories of the Buffalo Soldiers to his extended family. "Growing up, I heard a lot about the Indian guides at Fort Huachuca and all about Pancho Villa," said Mary Watson, the oldest of his four daughters. "They were good stories, but at the time I didn't appreciate that this is really history. It wasn't until I learned about the Buffalo Soldiers at school that I realized how important my daddy was. That's when I started becoming really proud."
"What was most striking about my grandfather was his attitude," said Sheila Curry. "He never said a negative word about being in a segregated unit. He certainly encountered racial issues. Big time. But he never thought about it that way. The military was his life, and he was just doing his job, and he was good at it."
Matthews retired in 1947 -- four years before the Buffalo Soldiers finally were phased out as a result of President Truman's 1948 Executive Order integrating America's armed forces. "Even after he left the Army, he spit-shined his shoes every day," said his granddaughter Debra Grant. "I remember as a kid sneaking in his room and snooping around. His bed was always perfectly made."
Matthews' wife of 50 years, Genevieve, died in 1986 at age 73. "Our home has an open-door policy," Mary explained. "We've lived in the same neighborhood for over 50 years, and my daddy knows everyone, from the youngest to the oldest. The teenagers come in, and my son's friends come in, and he tells them the same stories he told us. I think all the people he sees have contributed to his longevity. He was very much in touch with the world. During the war in Iraq, he watched the news every night."
Matthews has received many honors over the years. He met with President Clinton at the White House, and in 2002 he celebrated his birthday with a trip to the State Department.
"I'm glad he's finally gotten recognition," said his daughter Barbara Young. "And that all the Buffalo Soldiers have finally been honored for their contributions to the country. There are so many who died and never received any glory."
These excerpts first appeared in an article in the August 3, 2003 issue of Parade Magazine.
Please Read Fiddler's Green Poem
More photos of Trooper Mark Matthews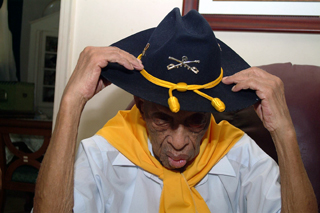 Trooper Matthews trying on his Cavalry Hat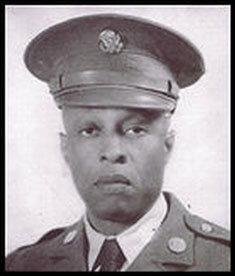 Trooper Matthews Active Duty Photo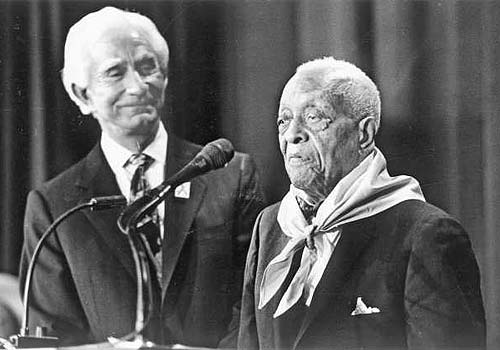 Trooper Matthews with former Post Master General Marvin Runyon (1992-1998)