2013 Retiree Appreciation Day

Joint Base Myer-Henderson Hall
Spates Hall

Fort Myer, Virginia
October 11, 2013


The Government may be shutdown, but the Army and Marine Corps are Up and Running!



(left photo) U.S. Army Colonel Fern O. Sumpter, Commanding Officer Joint Base Myer-Henderson Hall,
and U.S. Marine Corps Lieutenant Colonel John John Orille, Deputy Commander with Troopers Hill, Crawford and Moody.
(right photo) Trooper Hill with Lieutenant Colonel Orille


(left photo) Troopers with Base Command Sergeant Major Earlene Lavender.
(right photo) Trooper Crawford with SFC (ret 1954-1974) Dwight Hoskins.
Both served with the Army Security Agency during their Army careers.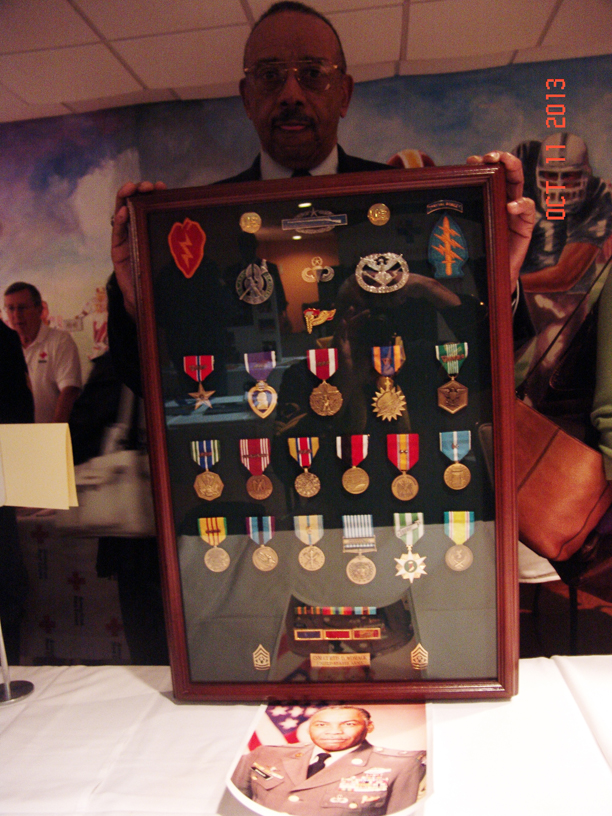 Trooper Andrew Winfree, who is also Co-Chair of the Fort Myer Retiree Council,
displaying just some of the medals awarded to our own Hero, Trooper Curtis D. Womack during Korean War and Vietnam War Service.
The medals include the Combat Infantryman Badge (with Star), Bronze Star for Valor (3 Clusters) and Purple Heart (3 Clusters)
Special Forces Tab, Pathfinder Tab, Medic Badge and Parachute Badge. Yep, Command Sergeant Major Womack was something else,
having served with the last of the four Buffalo Soldier Regiments in the U.S. Army, the famous "Deuce Four", the 24th Infantry Regiment.